Beyond Black Box Measurement: How to Finally Turn Your Marketing Department Into a Profit Center
Return on investment. It's the Holy Grail for marketers – the one thing you need to justify your marketing spend… to understand if your campaigns are truly driving sales… and to turn your marketing operations from a cost center into a profit center.
There's nothing groundbreaking in this concept, but the question is how you take the steps to actually identify your true ROI. Because it's still difficult to identify which portions of your marketing campaigns are really driving sales.
This is due in large part to a lack of transparency in measurement. Many vendors today still offer "black box" measuring solutions that offer little insight into ROI, particularly for multichannel campaigns.
In fact, only 11% of advertisers say they are extremely satisfied with the current state of ad measurement, according to a report from Advertiser Perceptions. And most believe that the quality of measurement solutions has either stayed the same or actually gotten worse in the past year.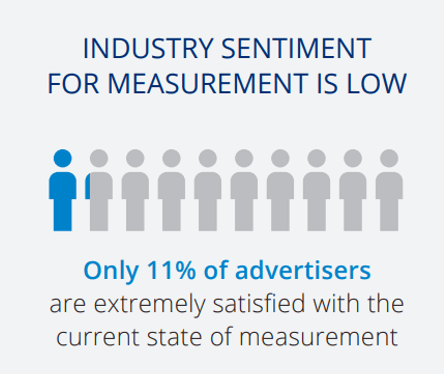 Source: 2018 Advertising Measurement Report, Advertiser Perceptions
If you're frustrated by your current ability to measure ROI, the good news is that there's an easy solution.
How? By working with a vendor that gives you access to the three things you need to calculate a true ROI: comprehensive and accurate data; transparency into that data; and actionable analysis of that data.
Now I know that sounds simple. But it really does boil down to those three must-haves. Let me explain…
Say Goodbye to Customer Identity Resolution. Say Hello to Personalized Customer Profiling.
The first step in measuring and improving ROI is understanding the profile of the people already visiting your properties – whether they're offline, online or both. Using website tags, point of sale data, geolocation, loyalty apps or other measurement methods, you can understand if these audiences are:
Anonymous prospect audiences visiting your website who DO possess attributes similar to your best customers
Aspirational anonymous website visitors who are unlikely to buy because they lack these attributes
Current customers who aren't in your CRM
Current CRM customers that you've lost track of
Using data appends and segmentation to build a single, complete profile of the individuals visiting your properties can help you significantly boost your ROI. Because a truly complete customer data profile doesn't just include mobile ID, physical address and email data. It also includes data on how that consumer likes to buy (for instance, what social media apps do they prefer?) and their likelihood to buy (for instance, do they live in an area code that fits your "best customer" profile?) – as well as many other economic and behavior-related insights.
That's exactly the kind of unique, unified customer profile that Claritas can help you build. Our platform delivers a true holistic view of a customer's profile and his or her journey across channels – allowing you to understand a customer's entire purchasing path in real-time. We give you insight into a customer's interaction with your brand, his or her demographics and likely buying behavior – as well as a host of other information.
This not only gives you unparalleled insight into the behavior of your current customers, it also allows you to build a profile of your ideal customer using predictive scoring and analysis, so you can go out and find more customers that look like your best ones.
This knowledge lets you put your brand in front of the right customer at the right time with the right message: online, offline, by location and by device. This allows you to deliver more personalized marketing campaigns – which can boost the ROI on your marketing spend by five to eight times, according to the research firm McKinsey.
Don't Underestimate the Value of Transparency
But here's the problem: You can't determine whether these personalized marketing efforts are actually paying off if you don't have the right data analysis. So if your vendor gives you bare-bones marketing intelligence reports with basic metrics such as click-through rates, impressions, opens, etc., then you're missing critical analytics you need to determine true ROI.
This is especially true if you're running a personalized, multichannel campaign, which requires a lot more information than just conversions to determine your real ROI. You need to understand what messages and which channels (not to mention which partners) actually delivered the highest conversions.
And if you can't see the real numbers and the methodology behind the numbers, how do you even know if that vendor is telling you the truth about your conversions?
The bottom line is that no vendor knows your business better than you do. So even if you're relying on your vendor to analyze your campaign for you, you still need to pull back the curtain so you have the visibility needed to understand the methodology behind the numbers. This is the only way to verify that the ROI calculations add up – and are not based on fuzzy math.
Meanwhile, as consumers get more sensitive about how their data is used, it's becoming more and more important for marketers to trust where their data is actually coming from – so they are certain it is not only accurate but also privacy-compliant. That's why Claritas offers our clients transparency into our analysis process and our data. You deserve the peace-of-mind of knowing that your campaigns are built using accurate data that meets the strictest accuracy and privacy standards.
The Right Identity Graph is the Foundation
In today's multichannel world, the data needed to calculate a return on your marketing campaign is available. You just need to tap into that data – and use the right tools to interpret it. This all starts with the right identity graph, which must have the accurate, privacy-compliant insights needed to understand your audiences – along with the linkage to understand the channels and devices they prefer. Short of this, the accuracy of your analysis will be limited.
To find out more about how the transformed Claritas can help you transform your marketing department into a profit center, contact us today.
https://www.mckinsey.com/business-functions/marketing-and-sales/our-insights/marketing039s-age-of-relevance-how-to-read-and-react-to-customer-signals