The Average Asian American Household Will Make $116,319 This Year – And Here's Where They'll Spend It
It's official: Asian Americans are the fastest-growing population segment in the United States, numbering over 19 million, with 84% growth since 2000. And that's only the beginning. The U.S. Asian population will add a projected 1,323 new members every day from 2019 to 2024.
(Compare this to the traditional majority "white" population, which is expected to lose 165 members every day in the next five years.)
Why should marketers care? Because not only are the number of American Asians growing fast, they also contribute a whole lot to consumer spending. So Asian Americans can be a very lucrative customer base to target.
In fact, Asian American households will shell out 21% more each year on goods and services than the average U.S. household. Take a look at what they're spending their money on:
Around $100 per month on entertainment – 45% more than the average U.S. household
Around $3,000 annually on apparel – 15% more than the average U.S. household
Roughly $5,000 annually on food at home – about 6% more than the average U.S. household
Almost $12,000 annually on transportation, including new cars and trucks – around 10% more than the average U.S. household
Interested in capturing a portion of that spending? You're in luck – because Claritas can help.
We worked with one food producer to help increase sales for a product line that the company believed would appeal to both Hispanic and Asian American communities. It used data to help its retailers identify the most likely buyers – and deliver the right inventory and message to those consumers based on which specific multicultural communities shopped at each store. The result? Sales grew 300% in just one year.
So what is the best way to reach Asian Americans? LinkedIn is a good place to start, given that Asian Americans are two times more likely than average to use the platform. So are mobile-related social media strategies, given that Asian Americans are 23% more likely than the average U.S. household to access social media on their smartphones.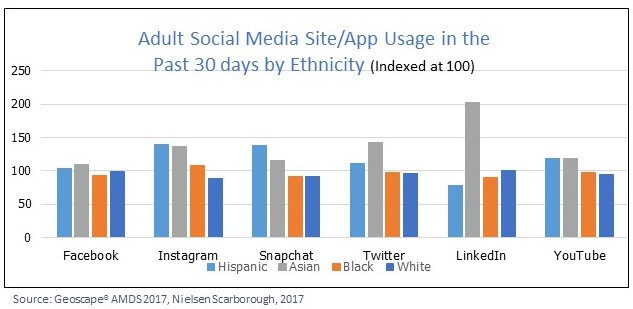 Through an industry-leading closed loop approach, Claritas can help you identify the segments of the Asian American population that make the most sense for your brand to target. Then through our campaign execution tools, we can put your message in front of them when it matters most through the right channels and on the right devices. Finally, our measurement tools will help you optimize your campaigns transparently, and in real time to make sure your campaigns are driving the ROI you need.
You can find out more in The Asian American Market Report, which is the second report in the Claritas New American Mainstream series. This series identifies the markets that hold the highest opportunities for multicultural growth to help companies find customers faster and sell smarter. To get your copy of The Asian American Market Report, click here.